Contact Center
The market for contact centers requires the highest effectiveness. Find out how Record & Coach powered by Eyeson will put your recording on autopilot and enable you to push your team to the next level.
Built With One of the Best Contact Centers
Together with one of the leading contact center solutions, we developed a module for video call recording on autopilot with built-in coaching modes. Manual processes are prone to errors. While recording is common with phone channels there are challenges when the requirements include video calling.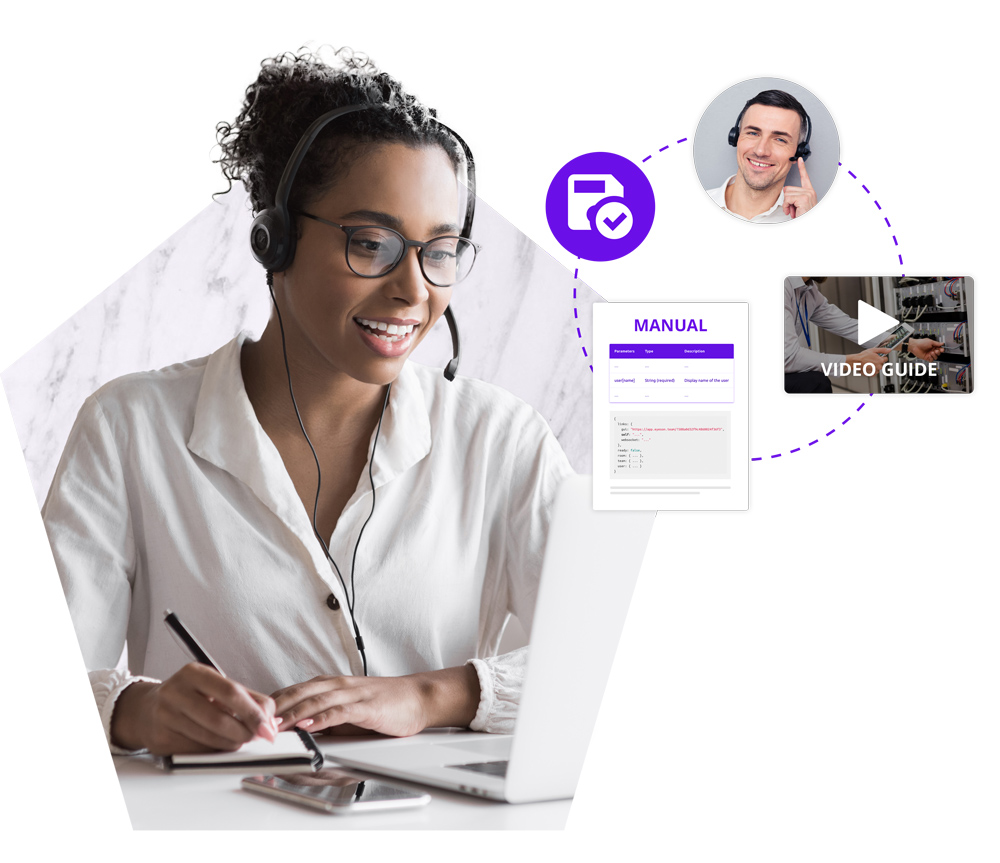 Call Recording on Autopilot
Very often the recording is triggered manually. The Recording Autopilot is triggered by a predefined event. Let's say, you want to keep records of what you showed the customer, you can start the recording every time a client starts to share her or his desktop automatically.
Tamper-proof recording in the cloud - untouchable by the client or agent
Automatic event triggered start/stop
Linking without thinking – recordings are saved in your CRM/CSM/CCSaaS and link the workflow and client
Mark the challenge – involve others and let them hear first-hand what the client's challenge is
Team Coaching & Supervision
You might also know this phenomenon: You reach a certain level and then plateau – no progress for you on any level. In contact centers coaching enables team members to reach the next level of service quality. This can be productivity or caller satisfaction (or both).
One way to coach is in retrospect. The retrospective mode enables you to focus on behavioral patterns and analyze situations. Coach your agents on workflow details in one-on-ones using one or many recordings.
The supervisor mode lets you join any active conversation between clients and agents. This allows safeguarding the quality you worked hard for.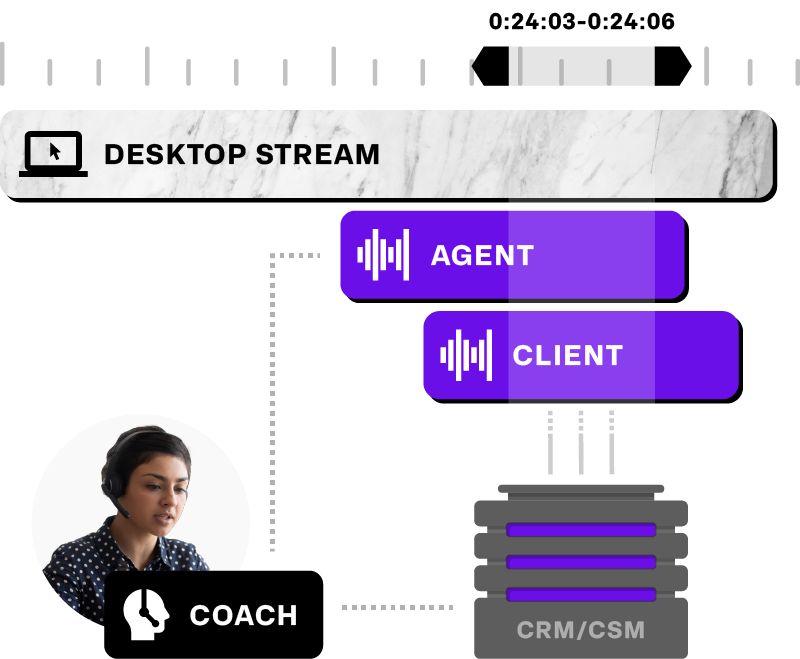 Invisible Helper in Stuck Calls
The real-time mode enables you to join a call. Invisible to the customer you can support your agent in many ways:
Harden patterns and routines your team just learned to resolve situations faster.
Fix a stuck call, so your agent is not blocked.
Set markers you want to discuss later with the agent.
Both modes enable the contact center to speed up resolution times and push customer satisfaction to new highs.
Fast Ramp-up Times
Ramping up to a new position or an existing project can be a fast and efficient process. This can be achieved efficiently by:
going through pre-recorded examples & cases

allowing the newbie to participate in live calls in silent mode
The market demands high efficiency of your teams and coaching can bring them to new levels. The customers demand high effectiveness and will love you for speedy resolutions.
Protect your data
Your video meetings are both secure and private, it's important to choose an API with the right features and measures for protecting your data.
Key Benefits
How you benefit
TOUCH
[ 00110001 ]
Synchronized Conferencing
[ 00110001 ]
Synchronized Conferencing
Everything is synchronized: videos, streams, data streams, events allow full situation awareness.
Everybody sees the same thing at the same time.
TOUCH
[ 00110010 ]
Fully Customizable
[ 00110010 ]
Fully Customizable
The white label interface offers a fully customizable interface, one face to the customer and clients.

Top video calling functionality without the operational overhead.
TOUCH
[ 00110011 ]
Low Bandwidth & CPU
[ 00110011 ]
Low Bandwidth & CPU
Less than 2 MBit/s per client is needed, no installation and full support for every device.

Impress with excellent video & audio quality on all devices.
TOUCH
[ 00110100 ]
Integration in Minutes
[ 00110100 ]
Integration in Minutes
Create a meeting in one line of code & use our templates to build video solutions within minutes.

Code smarter, not harder.
TOUCH
[ 00110101 ]
Session-based Pricing
[ 00110101 ]
Session-based Pricing
Simple pricing & licensing, just pay for the time you use our service. Free API key for testing.

Reduce development costs and focus on creating great services.
TOUCH
[ 00110110 ]
Full Compliance
[ 00110110 ]
Full Compliance
Meet country specific requirements, GDPR compliant, choose server location/provider.

Peace of mind for privacy and security.
Need more Info?
Get Your Free Factsheet