Public
Safety
Eyeson synchronizes insights and people,
one view to bring the team on the same page.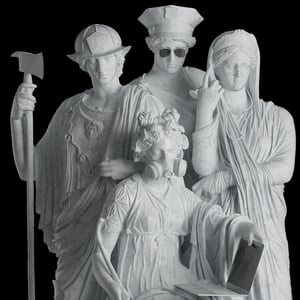 Keep control
Synchronized
Decision
Making
The main challenge in remote team collaboration is misaligned views caused by diverse perspectives and data visualizations, leading to operational misunderstandings due to inadequate real-time data synchronization.
To solve this, teams have achieved faster coordination by delivering accurate insights to the right people through a unified, real-time video stream of audio, video, and data inputs.
Key Benefits
The Advanced Ops Hub
Eyeson provides the most flexible solution for your individual needs.
Enhance security and decision-making with shared situational awareness.
Ensure failsafe operations with uninterrupted, reliable performance.
Foster synergy through smooth integration of diverse components.
Rapidly deploy operations to ensure quick and effective mobilization.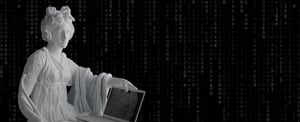 Telemedicine in a box
Rapidly interoperate with first responders anywhere, anytime
Explore a versatile platform designed to integrate assets and data for field medics and first responders. Facilitating quick and effective decision-making, our system supports a variety of data formats and ensures that all participants have access to the same information. With an emphasis on rapid deployment, compact portability, and failsafe resilience, our technology is designed to respond to disasters with speed and efficiency. Seamless integration into existing networks, including satellite communication, is a key feature. Equip yourself with the tools you need to respond swiftly in critical situations.
Benefits
Rapid deployment
Failsafe resilience
Seamless integration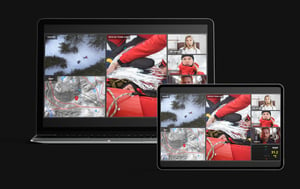 Police Operations
Set up virtual situation rooms for all assets to counter any threat
The secure mission management solution seamlessly integrates data assets enabling commanders to manage distributed assets using AI for tasks like object tracking in conferences. Built with redundancy to ensure continuous availability, it provides integrated, easy-to-use capabilities for effective operations, briefings, and crisis management. Rapidly deployable, it supports missions globally through secure communications and integration with existing networks and infrastructure standards.
Benefits
Comprehensive operational view
Rapid deployment
Non-stop availability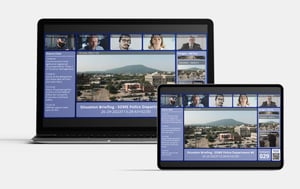 Firefighters
Safely coordinate multiple teams in any condition
The solution enables rapid response to environmental conditions by integrating and sharing real-time mission data and AI-fused analytics from diverse sources across assets, providing shared situational awareness through a common operational view. Built with redundancy for continuous availability, it simplifies coordination and geolocation while supporting effective collaboration and decision-making. The proven, robust technology seamlessly connects teams and assets with essential information.


Benefits
Shared situational awareness
Safe and simple to use
Non-stop availability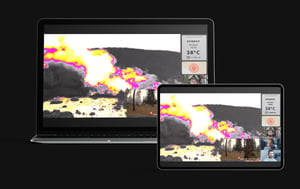 Critical Infrastructure
Enhanced distributed information for all the facility actors
Real-time video broadcasting to both remote workers inside the facility and in a centralized command and control center enhances communication within the operation, and increases safety measures by providing swift decision-making and immediate response to any potential issues. As a result, the overall efficiency of the facility is improved, creating a safer and more productive work environment.
Benefits
Integrate relevant information
Real-time video broadcasting
Improved communication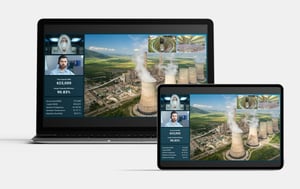 Oil/Gas Platforms
Informed decision-making on the rig and on shore
Improved communication, increased safety measures, real-time video allows for swift decision-making and immediate response to any potential issues, resulting in a safer and more productive work environment. The ability to record and store video footage allows for continuous improvement and training, ensuring that workers are constantly growing and adapting to the demands of the job.
Benefits
Integrate relevant information
Improved communication
Increased safety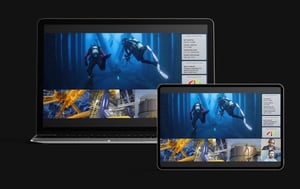 World Cup Stadiums
Swift decisions, unified information access to prevent escalation
With real-time video feeds, security personnel within the facility are able to make swift decisions and respond immediately to any potential issues, ensuring a safer environment for players and spectators. In the case of any potential threats or disturbances, the command and control center can quickly assess the situation and give necessary instructions for a rapid and effective response.
Benefits
Real-time video feeds
Rapid decision-making
Safer environment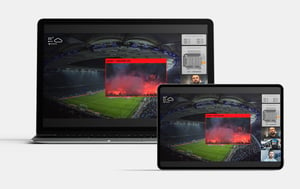 Skyscraper Security
Share all information, enhance decisions – boost survival
It greatly enhances security measures, ensuring the safety of building users and preventing potential threats. Through the use of real-time video feeds, both remote security personnel inside the building and the command and control center can coordinate and swiftly respond to any security issues. This not only allows for rapid decision-making but also creates a more efficient and secure environment.
Benefits
Enhanced security
Rapid decision-making
More efficient environment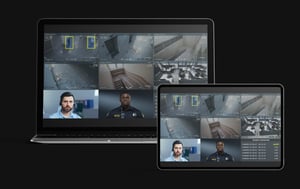 Need more Info?
Get in Contact