Customer Relationship Management
Enhance your CRM experiences and collaboration with our cutting-edge video communication API. Effortlessly incorporate live video interactions into any CRM platform. Harness impactful, real-time conversations to cultivate sales agility, elevate customer relationships, and amplify business outcomes.
Use video communication built for business
Improve service and conversational experience with integrated video conferencing for excellent customer relations. Embed video communication for concentrated tooling: Your team can work right in the business system and your data is created with the associated objects - leads, opportunities, companies, you name it.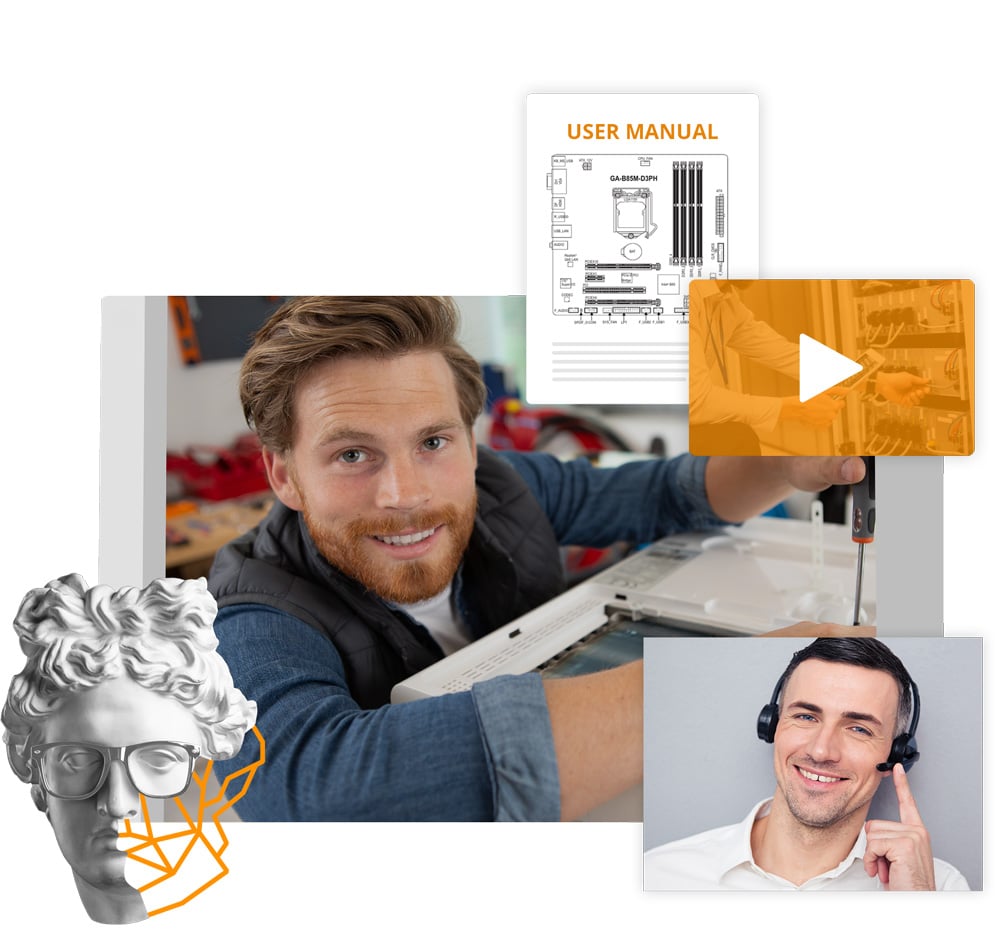 Maximize your efficiency with a flawless integration
Optimize your resources with the seamless integration of Eyeson. Experience the effortless merging of multiple audiovisual and data sources into a single video stream processed in the cloud. This integration not only centralizes all your data and communication into one hub but also frees up your system resources.
Connect with customers and prospects from within your CRM

Screencast or show documents (which live inside your CRM)

Record, archive and include sessions into your AI strategy
Display a wide variety of data in precise locations
With complete control over the layout and elements, you have the freedom to arrange them according to your specific needs and preferences.
Integrate data from your system into the call
Ensure uniform and branded visibility for everyone
Maximize your productivity and optimize your performance
Custom video layouts for collaboration
The Eyeson API empowers seamless merging of live media, data, and participants into one dynamic and immersive video and audio stream. This cutting-edge technology enables the seamless integration of a wide range of media streams directly into video meetings, providing developers with the flexibility to customize and optimize the layout for any specific use case.
Live Participants:

Account Executives, Business development specialists, clients, customers,...

Live Data & Media:

Live Mobile Video, Tutorial Videos, Recorded Sessions, Contracts, Proposals, User Manuals, Technical Data Files

Back- & Foreground Layer:

Individual Corporate Design, Suitable and branded Layouts

Example Use Case:

Troubleshooting with Live Video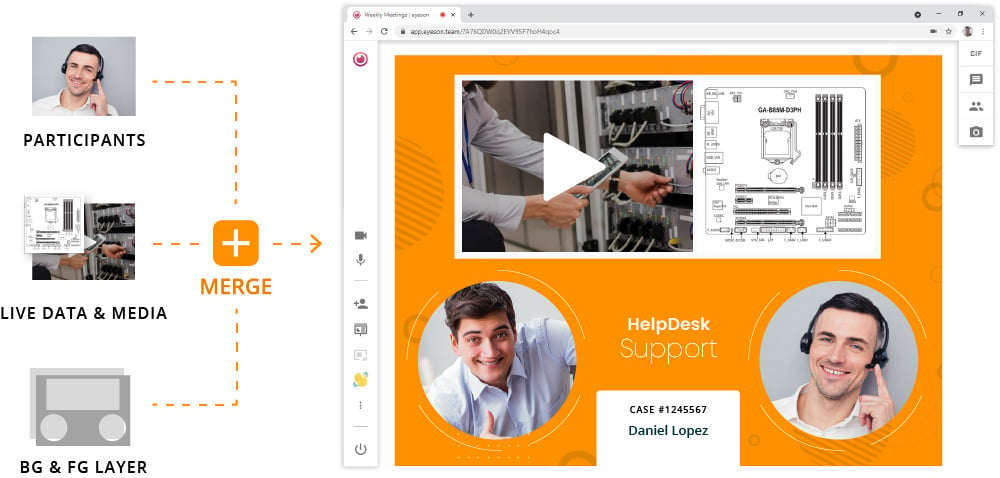 Protect your data
Your video meetings are both secure and private, it's important to choose an API with the right features and measures for protecting your data.
Key Benefits
How you benefit
TOUCH
[ 00110001 ]
Synchronized Conferencing
[ 00110001 ]
Synchronized Conferencing
Everything is synchronized: videos, streams, data streams, events allow full situation awareness.
Everybody sees the same thing at the same time.
TOUCH
[ 00110010 ]
Fully Customizable
[ 00110010 ]
Fully Customizable
The white label interface offers a fully customizable interface, one face to the customer and clients.

Top video calling functionality without the operational overhead.
TOUCH
[ 00110011 ]
Low Bandwidth & CPU
[ 00110011 ]
Low Bandwidth & CPU
Less than 2 MBit/s per client is needed, no installation and full support for every device.

Impress with excellent video & audio quality on all devices.
TOUCH
[ 00110100 ]
Integration in Minutes
[ 00110100 ]
Integration in Minutes
Create a meeting in one line of code & use our templates to build video solutions within minutes.

Code smarter, not harder.
TOUCH
[ 00110101 ]
Session-based Pricing
[ 00110101 ]
Session-based Pricing
Simple pricing & licensing, just pay for the time you use our service. Free API key for testing.

Reduce development costs and focus on creating great services.
TOUCH
[ 00110110 ]
Full Compliance
[ 00110110 ]
Full Compliance
Meet country specific requirements, GDPR compliant, choose server location/provider.

Peace of mind for privacy and security.
Need more Info?
Get in touch!